The patented Arrow-Breaker® technology is the only fully integrated valve that provides backflow prevention without an add-on device. The Arrow-Breaker® utilizes an integrated vacuum breaker to protect from contaminants and is available in hose bibs, sillcocks, garden valves, and frost-proof hydrants.
Improved appearance and quieter operation
Increases flow rate and improved pressure
Reduced cost per unit compared to valves with add-on devices
prevents water hammer – banging pipes – caused by other anti-siphon devices
A permanent protection device that cannot be removed
ASSE 1011 & 1019 anti-siphon certified by IAPMO
All Arrow-Breaker® products come with a distinctive orange tag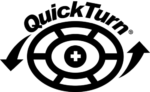 The Arrowhead QuickTurn® style hose bibs and hydrants provide easy operation and flow control in one easy turn. Utilizing the same components as our regular valves, the QuickTurn® technology provides the same features as most "quarter-turn" valves without sacrificing quality or low flow.
Easy on/off operation without letting go of the handle
Quick half-turn operation with complete flow control
No ceramic cartridge or hefty device that restricts flow or that can be easily damaged.
Utilizes the same design as all other Arrowhead Brass hose bibs and hydrants without our exclusive, maintenance-free
O-ring style one-piece bonnet and stem
Available add-on for all standard and no-kink hose bibs and solid-flange sillcocks
Included on all Arrowhead Brass 420, 460 Arrow-Breaker®, and 470 Freeze-Proof® series wall hydrants
Look for the "QT"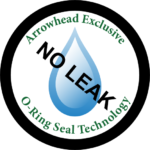 For over 10-years, Arrowhead Brass has been utilizing the high-quality O-ring seal design on almost all of our products. The majority of other valve manufacturers continue to use graphite or "PTFE" packing rings that require a two-piece bonnet and packing nut design, leading to constant maintenance and may develop leaks. The Arrowhead Brass O-ring design eliminates the two-part design with a single O-ring seal bonnet. Advantages of this exclusive design include:
No packing nut adjustments
No-leak bonnet seal around the stem
Smoother operation
Backward compatible with all vintage Arrowhead Brass products